Don't Make These Packing Mistakes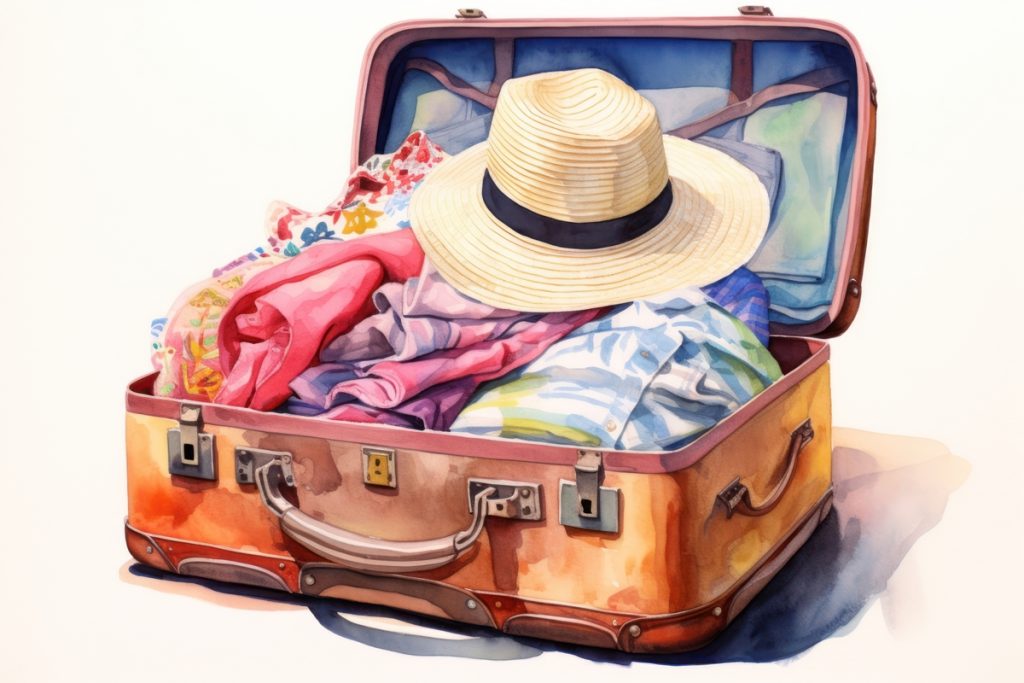 You don't factor in fabric
Fabric selection is typically the last thing we think about when we pack—much less, buy—our clothes. But when it comes to assembling your vacation wardrobe, fabric choice is the difference between looking sloppy or looking polished. And sure, there's always steaming, ironing and dry-cleaning, but who wants to be tending to their clothes when there are places to go and people to meet? For warm-weather destinations, your go-to threads should be cotton, rayon and silk; for cooler climates, wool, cashmere and knit.
You pack too many pairs of shoes
Unless you're packing for a special occasion like a wedding, there's no reason you need to bring more than three pairs of shoes. In your suitcase: a walking pair, a dressier pair, and a more casual pair like a loafer or sandal. Any more and you risk weighing down and/or stinking up your luggage. As for high-heels, ditch the sky-high stilettos for a practical heel (think: a wedge, midi or pump) that'll go double the mileage.
You don't check the weather
Your travel wardrobe should be chic, yes, but it should also be practical. And weather-appropriate wear is the touchstone of smart dressing. Headed somewhere rainy? A waterproof jacket, rain boots and layered clothing will be essential. Or, if you're desert-bound, load up on breathable, lightweight options for the day and sweaters and pants for (cooler) nights. To get a sense of what kind of weather conditions await you at your destination, set a forecast alert on your iPhone and monitor the weather patterns in the days preceding your departure.
You overlook the pieces that do double-duty
They may not be as exciting as your bolder statement pieces, but basics are the key to versatile dressing on and off the road. So stock up on those simple tanks, cardigans and tees, and throw a couple chic scarves for good measure. We promise you'll never have a "I have nothing to wear" moment again.
You don't color coordinate
Don't get us wrong—color is a good thing. But when it comes to packing a suitcase, ease up on those teals, magentas and fluorescent yellows. Unless you have the wardrobe to support it, it'll be near impossible to throw together a fully-coordinated look on the fly. For easy outfit planning, pack 75 percent neutrals, leaving the remaining 25 percent for colorful pieces within the same family (i.e., pastels with pastels; earth tones with earth tones; jewel-hues with jewel-hues).
You go "heavy metal" on the accessories
A bit of rock-n-roll is a great way to add an edge to your look. Sadly, studded bags, shoes, belts or other accessories run the risk of, setting off alarms in the airport or other high-security areas such as churches or museums. Choose one which has a drawstring and shoulder straps so you can expand its shape depending on how much you're carrying.
You don't consider the local culture
Sure, athletic wear (baggy sweats may be hip stateside, but in countries like Japan or South Korea, not only is it perceived as sloppy—it's also offensive. Same goes for wearing flip flops in Arab, Hindu and Buddhist countries, or skimpy clothing in the Middle East and North Africa. To avoid unwittingly causing offense, read up on the country to which you are visiting's dress code. An oversized scarf of shawl is also a good investment for more culturally conservative countries.
Your taste is too expensive
When you're headed somewhere fabulous, it can be tempting to pack the wardrobe to match (think: A Chanel suit and patent Louboutin heels in Paris). But all it takes is one unlucky incident to learn the hard way that luggage gets lost, damaged and stolen all the time (with most airlines only marginally reimbursing for losses incurred). To ensure you arrive with everything you left home with, pack all your electronics, jewelry and designer wares in your carry-on. And bear in mind that the maximum liability with luggage is $3,400 on domestic flights or about $1,555 on international flights.
You pack stuff you've never worn before
If you haven't found the right occasion to wear that 50's-inspired full skirt at home, there's a good chance you won't find a reason to wear it on vacation either. A good purchase is not one that you'll have to talk yourself into buying ("I'll wear it at a themed garden party one day …"), and in our experience, those tried and trued outfits are the ones that will have you feeling and looking your best.
You don't bring travel-sized versions of your favorite cosmetics
For easy beauty on the go, keep a separate drop kit filled with all your favorite beauty essentials in TSA-approved sizes. Generic items like body wash and shaving cream can always be brought abroad, but you'll want to have your favorite cosmetics (think: foundation, facial moisturizers and hair styling products) all bottled up and ready to go.
By Siobhan Reid Aug 09, 2016